From 5-7 June 2018, for the second year running, the Russian Association for Water Supply and Drainage held its All-Russian Water Congress, an event dedicated to discussion and debate on trends in water-management modernisation in Russia, and all branches of water-usage in the light of modern ecological demands and the requirements placed on new technology, management models and financing.
The event was held with support from the Russian President's special representative for nature conservation, ecology and transport, Sergey Ivanov, and Deputy Prime Minister Alexandr Khloponin.
Sergey Semenov, Morstroytechnology's Development Director, took part in the congress and sat on the «infrastructure test-drive» jury for port infrastructure facilities.
The organising committee for the congress gave high praise to Sergey Semenov's contribution to the event's programme content, and the letter of thanks from the Russian Association for Water Supply and Drainage can be found in the Projects Response section of our website.

The «infrastructure test-drive» is an interactive event with the objective of publicly presenting and evaluating the investment attractiveness of potential public-private partnership (PPP) projects.
The test-drive format involves the presentation of an investment project from the project initiator, after which a jury comprised of sectoral experts and bank representatives assesses the project according to a series of criteria, including marketing viability, operational efficiency, investment attractiveness, comprehensiveness of the legal model and risk distribution.
Project evaluation in this format, with an ensuing discussion of the project's strong and weak points, enables an analysis of the specific project in question, as well as an understanding of more general issues facing the implementation of PPP investment projects in the port sector.
The attention of the "infrastructure test-drive" at the Water Congress was focused on the project to create a deep-water region at the port of Arkhangelsk. The jury's experts gave a high rating to the project's investment attractiveness, risk distribution, operational effectiveness and marketing.
The discussion took place with the involvement of representatives from the Rosmorrechflot agency, VTB Capital and other financial institutions.
Currently, the party intending to invest in the construction of the port terminal will enter into an investment contract with Rosmorport. However, the investment contract is not binding for either side, hence a situation may arise whereby, for example, the onshore infrastructure will be built and the necessary dredging work has not been carried out, or indeed vice-versa. In this way, both sides bear a proportion of the overall risk.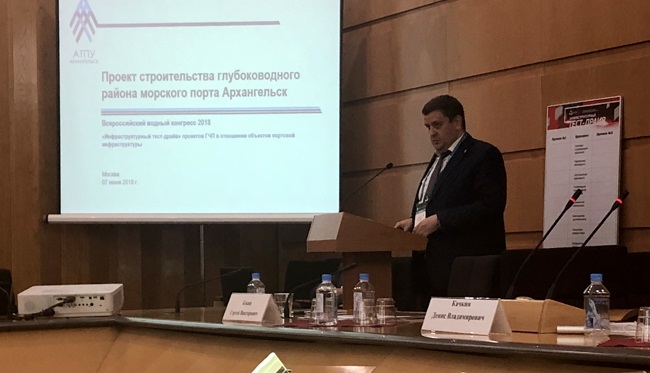 The risks can be mitigated through the use of a concession scheme with a properly drafted contract. Both sides of the concession agreement have clearly defined rights and obligations, enabling a reduction in risks for the investor. This kind of deal structure is more comprehensible to banks and makes it more likely that project finance will be granted.