Client: FSUE Rosmorport
Project schedule: 2017-2020
Project brief
---
A number of defects have been detected in berths 1 and 2 of the port of Petropavlovsk-Kamchatsky, and berth 3 has been taken out of service.
In addition, since the berths were constructed, the regulatory requirements for the seismic resistance of structures have been revised, leading to the need for their reconstruction.
Work completed to date
Morstroytechnology has completed the following tasks for this facility:
engineering survey work
project design and cost-estimating documentation
all necessary expertise approvals have been received
Main project characteristics
The Cape Signalny complex included the following facilities:
Federal-owned facilities
Cargo berth for receiving and handling design vessels (reconstruction of berths 1 and 2)
Cargo berth 3
Operational basin for ​​berths with necessary navigation equipment
Investor-owned facilities
Rear storage areas
On-site engineering and technical support networks
Crane runways
Checkpoint buildings 1 and 2 and fencing of the territory to ensure transport security.
Construction stages:
Stage 1 - reconstruction of hydraulic mooring structures, taking into account prospective design vessels. In connection with the priority of financing in the composition of stage 1, the allocation of stage 1.1 has been envisaged
Stage 2 - creation of the compex's coastal infrastructure
According to the technical brief, the reconstruction of hydrotechnical structures entails alterations to their purpose, design vessels and operational capacity.
Berth design function:
berths 1 and 2: handling of general and container cargo
berth 3: mooring for port vessels
the shoreline reinforcement of berth 1 is repurposed as a cargo berth.
Estimated cargo turnover – 680,000 tonnes.
The floor loading from the cargo planned to be handled at the berths is up to 10t/m2, which exceeds their standard operating loads in their current state.
Preliminary consideration was given to a range of options for the design of the hydrotechnical structures: a sheet pile edging secured with bolts, and a high pile foundation grid with a front sheet-pile edging wall. A high pile foundation grid with a reinforced concrete topside and a front sheet-pile edging wall was adopted as the main reconstruction option.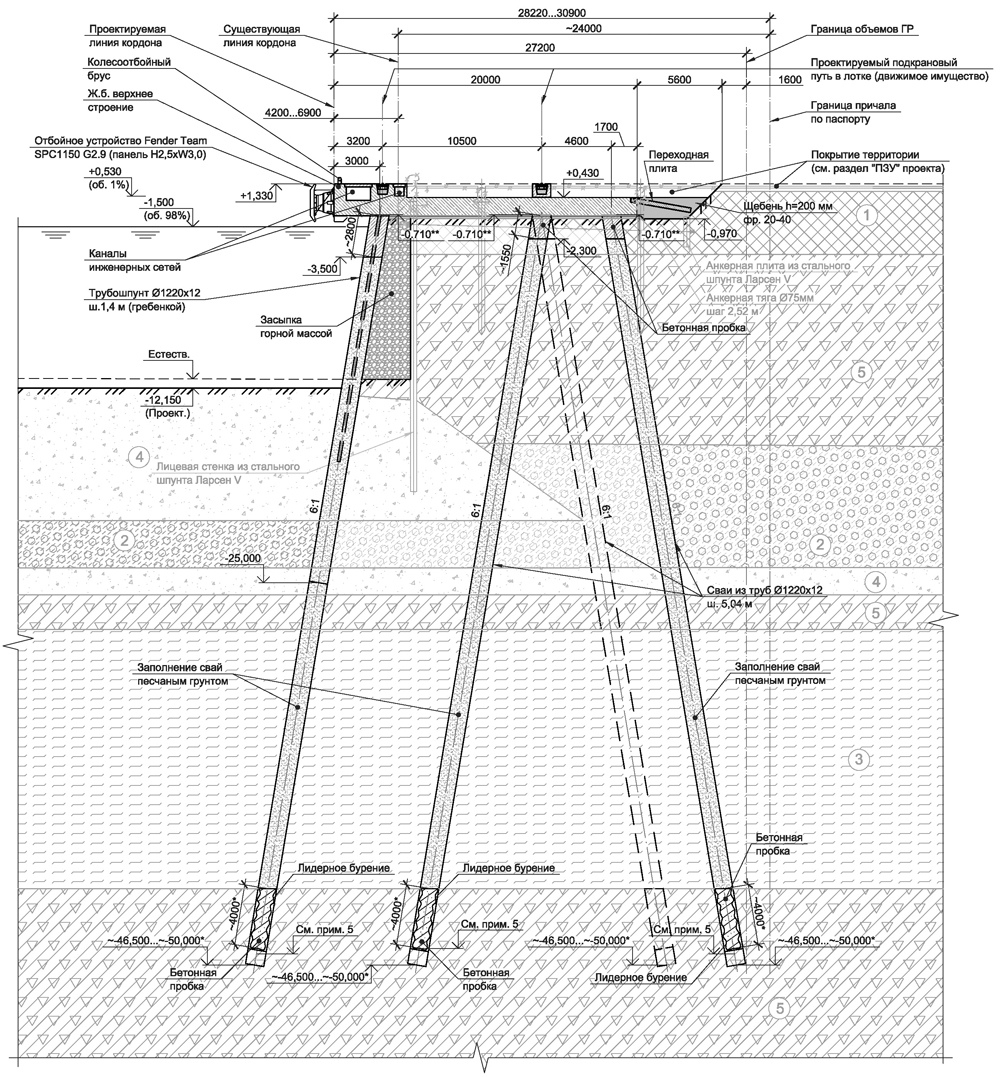 Structural cross-section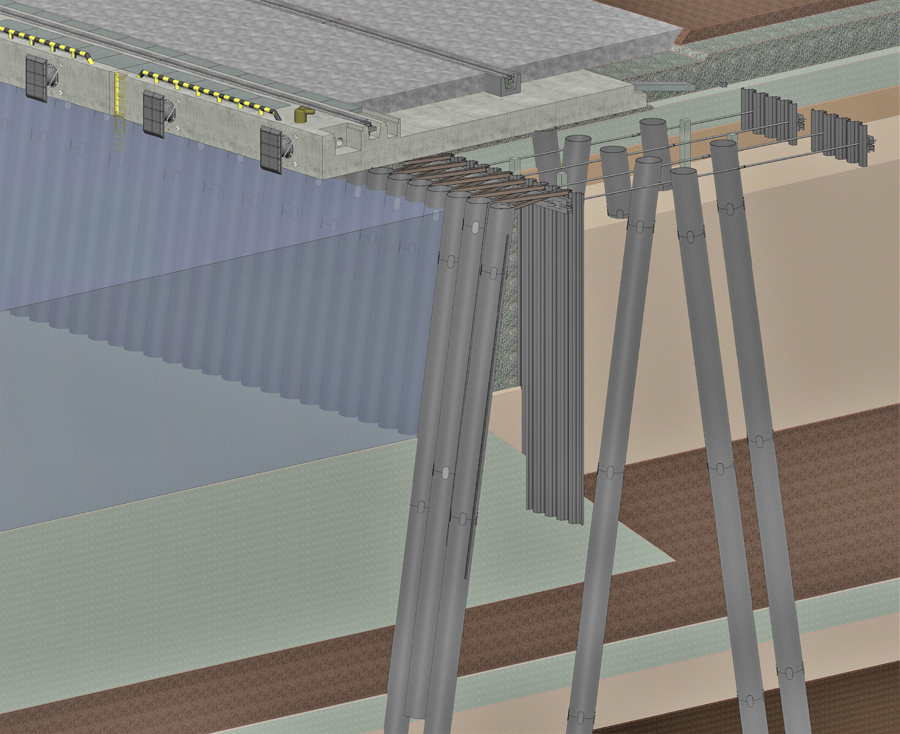 3D cross-section
Transport fleet vessel loading and unloading is planned according to the following technical paths:
Ship - crane - truck / vice versa
Ship - crane - temporary storage area / vice versa
Ship - crane - port tractor-unit/trailer (intraport transport) - storage area
Ship - crane - forklift (intraport transport) - storage area
Ship - quayside portal crane (or manipulator) - rear portal crane - storage area
Warehouse - crane - truck / vice versa
Warehouse - loader - truck / vice versa
Warehouse (temporary warehouse) - crane (loader, tractor-unit/trailer) - warehouse / vice versa".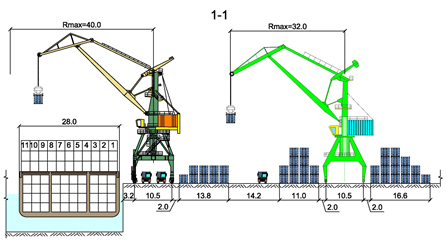 Container-handling at the complex's projected berths
Key features of the project
The hydrotechnical structures are being designed with the seismicity of the construction site taken into account. In the event of an earthquake, the berths should not sustain any damage.
Data on regional seismicity is incorporated into regulatory documents. These norms have been updated in 1962, 1969, 1981 and 2014. Each edition is accompanied by updated maps of general seismic zoning, which are used to determine the seismicity of the area. According to the maps, seismicity has increased in some areas by 1-2 points. This has affected the ports of Novorossiysk, Tuapse, Sochi, Petropavlovsk-Kamchatsky, Makhachkala and others.
But the berthing facilities in these ports have already been constructed. For the sake of safe operation going forward, all these structures require additional seismic reinforcement.
In the case of the port of Petropavlovsk-Kamchatsky, it was necessary to find the most cost-effective method of reconstruction for an operating enterprise