Client: JC VaninoTransUgol'
---
Project brief
The transport and loading complex currently under construction in the Khabarovsk region has the following design objectives:
– coal transhipment from rail to maritime transport;
– short-term coal storage in open bays:
– vessel servicing (electricity supply from shore, water bunkering);
– customs control;
– preparation of on- and off-loading documentation;
– other sea-port operations (navigational safety, security provision etc.)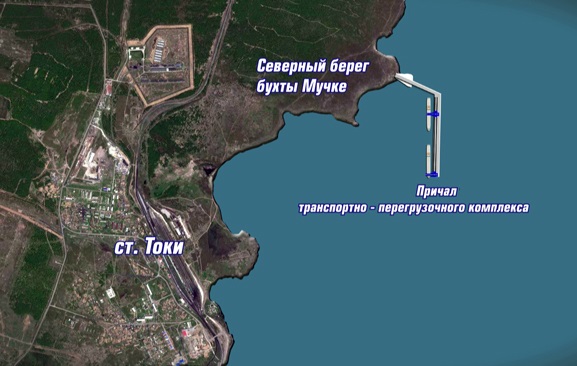 Construction work on the complex will be carried out in two stages.
The planned cargo-handling capacity will be as follows:
Stage 1 – 12mln tonnes p.a.;
Stage 2 – 24mln tonnes p.a.;
All the coal supplied to the port will be brought in by rail.
The coal wagons will be brought to the terminal rail-head and will be taken away after off-loading on a loop.
The rail-head complex will be developed in one stage.
All coal brought to the complex will be taken away by ship.
Vessel types:
Stage 1 – CH-40 to CH-115
Stage 2 – CH-40 to CH-168
In accordance with the findings of preliminary studies of a range of factors affecting the throughput capacity of the sea loading area, a single-sided quay of impervious construction was selected, which will form a protected sea-basin for two loading jetties and the jetties servicing the port vessels.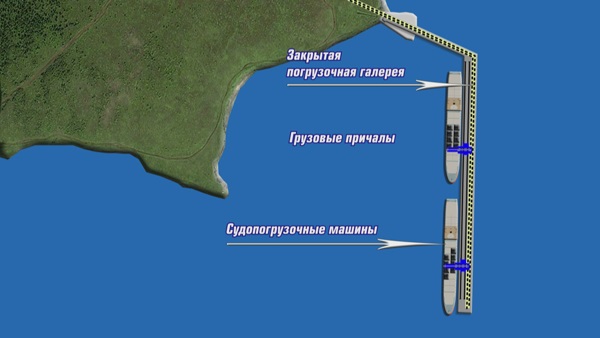 In view of the land-relief features of the territory where the coal terminal will be built, it was decided to reduce the volume of earthworks by positioning the complex facilities on six terraces at different levels:
1). Open coal storage with conveyor system and transfer stations;
2). Railhead with enclosures and wagon-inverters;
3). Administrative/residential complex;
4). Auxiliary buildings and facilities (repair workshops, filling station, fire station);
5). Storm and sewerage drain network with reservoirs;
6). Customs service facilities.
All the terraces are linked by roads with admissible gradients.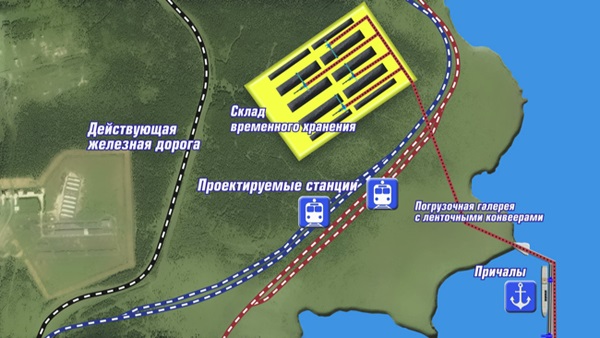 Result
The project design documentation has been drafted, and the project has been granted approval by state ecology bodies and Glavgosexpertiza. Work is currently under way on the working documentation for individual facilities, and construction work is ongoing.