Last news
To your question is answered
На Ваш вопрос отвечает

Alexander Goloviznin
Director, Logistics and Analytical Research
Kandalaksha Commercial Sea Port Development Concept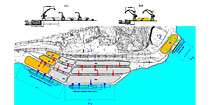 General Customer:
Customer:OOO "Kandalaksha Commercial Sea Port"
Performance time:2006
Work Performance Background
Due to change of ownership a problem of new traffic flows attraction and change of their structure i.e. from coastal to export ones, as well as the port development possibilities according to new requirements has arisen.
Customer's Basic Question:
Is it possible to locate cargo handling terminals on existing port area to handle perspective cargo turnover specified by the Customer? 
What characteristics should the terminals have to make the project economically feasible?
Project Target
To provide the General Layout Schemes of Kandalaksha Port phased development with cost estimate, to substantiate possibilities and restrictions for the perspective port zoning.
Work Performance Stages
This Concept is the first stage in the preparation of the "Declaration of Intent to Invest in Construction of Coal/Coke/ Iron Ore Concentrate Terminal in Kandalaksha Commercial Sea Port".
Project Features
The Concept development was required to take into account a series of restrictions. First of all, it is the necessity of project realization within the existing port limits.  Alternatives for throughput capacity increase both in case of keeping the universal mechanization scheme and creating specialized loading/unloading areas as well as for storage space development providing modern cargo handling equipment which would secure the safety of the railway vehicles, were examined in the Concept.
An actual problem for the Kandalaksha port is shallow depths in certain fairway areas which limit pass of large deadweight vessels. The Concept proposes the fairway relocation as a means to solve this problem, which allows to reduce the volume of dredging works.
Result
Based on the results of this workthe Customer has received the dada necessary to make reasonable decision on future development of the port. Optimum process flow diagrams and layout schemes have been proposed for handling of existing and perspective cargo turnover taking into account the phased development (4 phases).