2008-2009
Reconstruction of objects of the federal property in port St.-Petersburg. Reconstruction of moorings №№ 12, 13, 14, bank protection of the Neva gate and the Gutuevsky ladle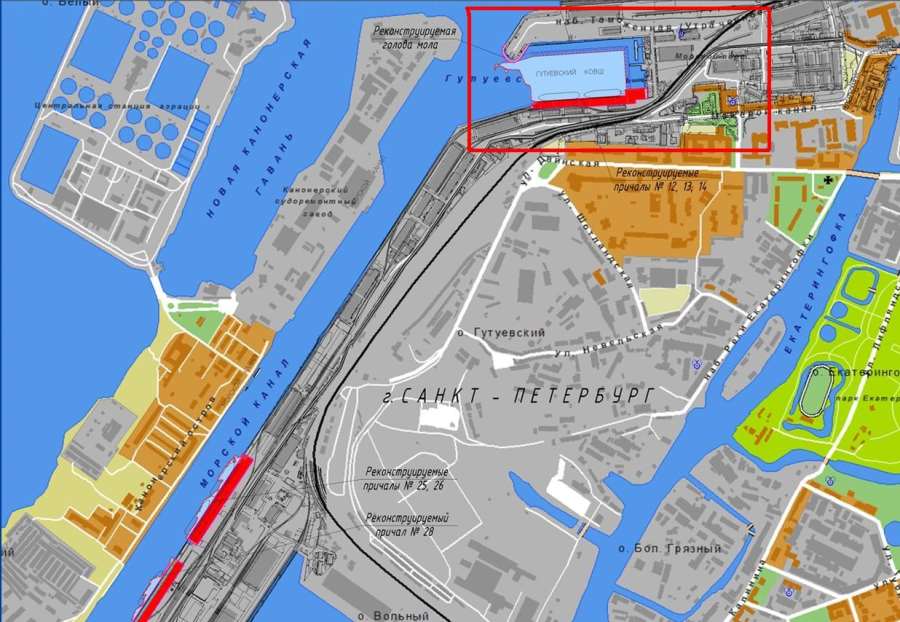 General Customer:FGUP «Rosmorport»
Customer:
Performance time:2008-2009
Main characteristics
Reconstruction moorings №№ 12, 13, 14 and bank protection of the Neva gate are located in borders «Big port St.-Petersburg» (Gutuevsky ladle) on the 2nd area.
Now berthes №№ 13,14 and a some sections of the berth №12 are in an emergency condition and are taken out of service. Earlier berthes were used as sloping and hadn't got any load equipment. The entrance in water area of the Gutuevsky ladle, to berthes №№ 12,13,14 is carried out on the St.-Petersburg marine channel.
Project Target
It is supposed to organize a universal reload complex for transshipment of general cargos of open storage, particularly metals. Universal vessels for carriage various general cargos are accepted as settlement classes of ship. A design cargo turnover - up to 0,6 million tons of cargoes a year.
After reconstruction the cargo berthing front will be created on berths №№ 12-14 with length 303,28 m., with a mark of dredging - (-)10,45 m. The berthing front is estimated for simultaneous statement of two settlement vessels - the Vessel 1 and the Vessel of 2 - Ro-Ro. Creation of loading ramp is provided for unloading of Ro-Ro vessels.
ScopeofWork
Structure of objects under reconstruction:
- berthing front;
- operating water area of Gutuevsky ladle;
- bank protection of the Neva gate;
- crane runways;
- engineering networks.
The basic technical characteristics
Quantity of berths - 3 units
Length of berthing front: 304 m.
Length of bank protection - 166 м.
Volume of dredging - 132 300 cubic m.
The territory area in design limit - 1,16 hectares.
The water area - 6,6 hectares.
The area of artificial covers - 0,99 hectares.
Building density - 60 %
Result
The project is completed and expedited for State expertise passing.