2008-2009
Deep-Water Berth 1A for Light and Dark Oil Products in the Port of Tuapse. Working Documentation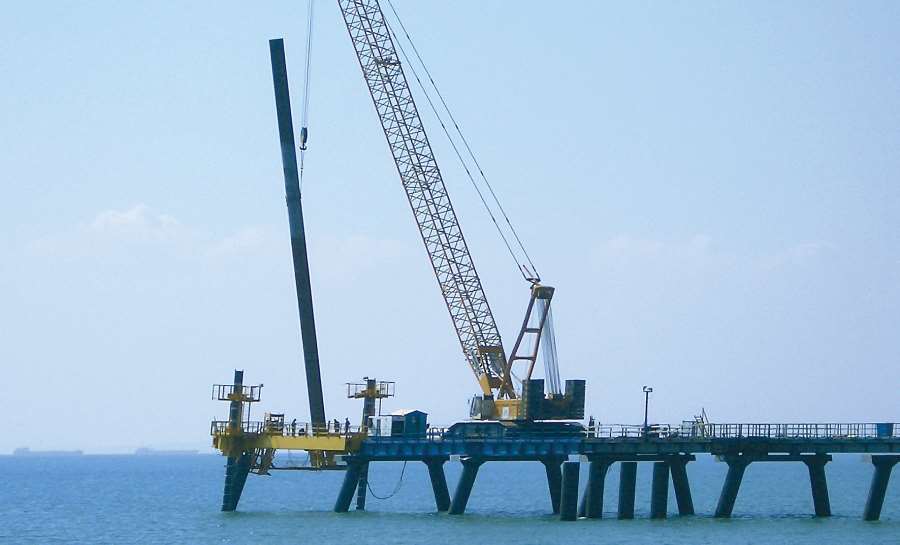 General Customer:
Customer:OOO "RN-Tuapsenefteproduct"
Performance time:2008-2009
WorkPerformanceBackground 
The work is performed within the framework of the Program of Long-Term Reconstruction and Technical Upgrading of OOO "RN-Tuapsenefteproduct" from 2007 to 2011.   
Project Target
Construction of deep-water berth to transfer 7 million tons of oil and oil products per year. 
ScopeofWork
Facility Purpose
Oil loading for export through the berthing complex into tankers up to 80 000 DWT on the Berth No. 1a and up to 30 000  DWT on the Berth No. 16; fueling. 
Summary Description of the Project:
1. Berth1а, Berth 1б
The Berths 1 a and 1б are dolphin structure comprising loading platform, fender and mooring dolphins connected with each other and with loading platforms by steel footbridges.
2. OffshoreConnectingPier
The offshore connecting pier ensures connection of loading platforms of the Berths 1 a and 1б with shore.   
Process pipelines with compensators, 4.5 m wide fire and service roads for vehicles and pedestrian footpath, as well as cable duct are provided for on the connecting pier. 
3. CoastArea
At offshore connecting pier outlet to the shore in inner harbour waters the land reclamation is provided to locate the following facilities: Metering Unit Area, Central Control Room, Accommodation Block and ramp to the shore area.    
Federal Properties:
4. Dredging and Creation of Water Area
Dredged operational space is intended for moorage of fully loaded tankers and its safe removal by tugs.
Operational space and berth design depths for fully loaded design tankers are:
at the Berth 1б, BS -13.20 m;
at the Berth 1а, BS -16.50 m.
5. Reconstruction of Southeast (Pervomaysk) Breakwater
The reconstruction of the Pervomaysk Breakwater will allow to improve considerably wave conditions in Berth 1 б operational space for SW -SSE storms.   
The reconstruction includes berth reshaping up to design elevation plus 4.30 m from "0" of the Port of Tuapse (BS +3.74) by placing the tetrapodes on the top of breakwater. 
Results
The project was developed and submitted to the State Expertise. Now preparatory construction work is carrying out.